Learn how you can be notified when you receive new e-mails.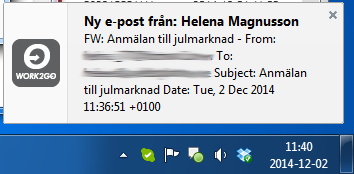 You can have a pop-up window in the lower right corner of your computer screen when you receive new e-mails in Work2Go. They are pale in colour and don't flash and therefore don't take all your attention as other similar communications tools can do. The message informs who has sent a message to you and its subject line. If the message isn't interesting enough to read right away, you can just continue with what you already was working on. If there is something you want to read right away, you just click the pop-up message.
If you already have answered no to the question below, but have changed your mind now?
Read the paragraph Change settings for pop-up window at the bottom of this page.
1. When you receive an e-mail and the following window opens, select Yes.

2. Confirm the setting in your browser.
Change

setting

s for

pop-up window
Have you previously said no to pop-up windows but want them now, do as follows.