Distribution lists

/

mailing lists

are

administered

when logging

in to

the Administrator account

.

Here

we tell you

step by step how

.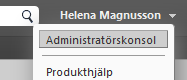 Log in to the admin account. It's usually admin@yourdomain.com but not always. If you are not sure which account is your administrator account you just contact our support. It is only on an administrator account you see Admin console under your name.
1. Log in to the admin account.
All have at least one administrator account and usually it's e-mail address admin@yourdomain.com
2. Click the arrow next to the account name in the top right corner to select the Admin Console and log into the admin interface (same login as your account, you are already logged in).
3. Click Manage in the left column and then Distribution lists.

4. At the top right, click the gear > New.
5. Fill in a name / e-mail address, for example staff@yourdomain.com if you want to create a mailing list to easily send e-mails to everyone in the company (those included in the list).
6. Add e-mail addresses to the list.
Either by searching for their name in the top right corner or by entering their e-mail address in the box below. Click Add / Add All> Next.
Display Name: What you want to call your list.
Also fill in a description for the list if needed, this is not visible externally.

Can receive e-mail: mark this.


Hide in the global address list: do not mark this.
7. Click Finish.
Go to

the Settings tab

>

Import

/

Export

> Export.


Select

Contacts –

Account

Contacts

.


Source

: Select the

Address Book

> OK > Export.


Open the file in

Excel or

similar programs.




Select the

email addresses you

want to include in

the list.

Copy

and

paste them into

a

word process

program

such as

Notepad.




Log in to

the administrator account

and create a

mailing list

.


Copy

addresses

(

eg from

Notepad

) and place

them in the box

at the bottom right

.


Add >

Finish.
Administration of

a

mailing list
When you want to add a new contact just log in, look for the list and add the new contact to it.


When an account is deleted the address disappears from the list automatically.