You can

set how often

you want your

phone

to retrieve

new information from

your account

,

such as how often

it should check with the server

if you

have a new

e-mail message

.
A mobile that collects e-mails every fifteen minutes consumes less battery power than the one that retrieves e-mails every minute.
If you don't have Pro today, you can upgrade by contacting
our support
.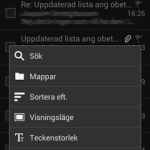 1. Go to settings
Go to the e-mail client available under Applications > Mail. Now you see your inbox. Click the Menu button to access your settings for e-mail (it is usually found at the bottom of the screen) > select Settings > your account.
Click image for full version.
2. Change the sync schedule
Scroll down to the heading Exchange ActiveSync settings > Select Sync Schedule. Set how often your phone will sync your information.
Click image for full version.