You can set how often you want your mobile to retrieve new information from your account, such as how often it should see if you have received a new email.
A mobile that retrieves information every quarter saves on its battery compared to the one that retrieves new information every minute.
If you don't have Pro today, you can upgrade by contacting
our support
.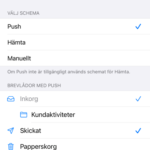 Settings> Email> Accounts> Retrieve new data.

Here you now set how often your mobile should sync information.
Click image for full version.