If you don't think you need to access all your e-mails from your mobile, we recommend that you perform these settings. The fewer days, the more you can save on your battery consumption.
If you don't have Pro today, you can upgrade by contacting
our support
.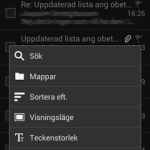 1. Open the settings
Go to the e-mail client available under Applications > Mail. Now you see your inbox. Click the Menu button to access your settings for e-mail (it is usually found at the bottom of the screen) > select Settings > your account.
Click image for full version.
2. Changing the period for synchronization
Scroll down to the title Exchange ActiveSync settings > Select period for synchronization of e-mails. Choose period to sync e-mails to your mobile.
Click image for full version.