If synchronization is not working correctly or if you get an error message when you have Outlook Connector installed, we want you to activate the tool ZCO logging.
If you don't have Pro today, you can upgrade by contacting our support.
If you haven't installed the Outlook Connector yet, follow the guide Synchronizing with Outlook [PRO]

This tool (ZCOLogCtl.exe) is installed together with the Outlook Connector.
You find it here: C: \ Program Files \ Common Files \ System \ MSMAPI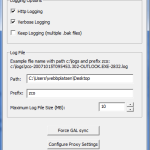 1. Double-click the file and enter the following information.
Enable: Enable Logging, HTTP Logging, Verbose Logging
Path: select a location where the log files will be saved
Prefix: ZCO
Maximum Log File Size (MB): 10
Click OK to activate the tool.
Click image for full version.
2. Restart Outlook and recreate your problem.
3. Go back to ZCO logging tool and uncheck the Enable Logging.
4. Restart Outlook again.
5. Pack the log files and send them to us for analysis.