By sorting your e-mail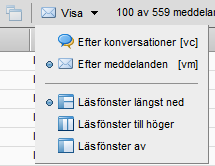 Make sure you use the display mode Reading Pane at the bottom or the Reading Pane off by clicking on View in the toolbar in the upper right corner. And View your messages after messages.
Now you can sort your e-mails according to whether they have been flagged, tagged, sender, attachment, subject, size or date when it was sent by clicking on each title.

By searching for

the

message
Fill

in what you

are looking for

in the search box

at the top

and click

on the magnifying glass

.

Search tab

opens

with

the result

.

If you

still can not find

what you are looking

for

you now have the

opportunity to refine

your search

using

multiple

filters.