Here we explain how you can remove the suggested contacts that you no longer want when sending e-mail.
When writing a message and fill in the recipient's e-mail address you only need to enter the beginning of the address. Work2Go show automatically a list of e-mail addresses you have sent e-mails to earlier or saved in your address book.
If you have a contact with multiple e-mail addresses, which you use both, the adress you use more often are always at the top of the list. This ensures that you continually get the most use the address only for efficient use of your Work2Go.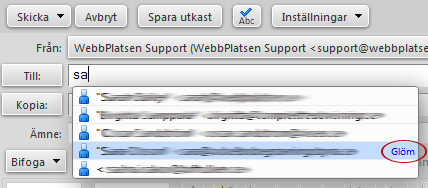 But this also means that invalid addresses can appear in this list. You might, for example misstyped one once and tried to send mail to it which then bounced. Also this addresses is saved. But you can do something about this, you can hide it from the list and thus avoid taking the wrong one again. The only thing you need to do is click on the right 'Forget' next to the address.