Read about how you can choose which folders you want to be able to access from your mobile. If you do not need access to all of them, it is unnecessary to sync them. This saves your battery consumption.
If you don't have Pro today, you can upgrade by contacting
our support
.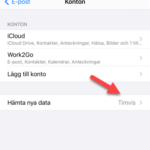 1. Settings> Email> Accounts> Retrieve new data.
2. Select the account> Push on the ones you want
(Push = message is downloaded to the phone immediately. This can consume a lot of battery and amount of surfing)
Click image for full version.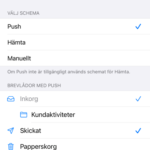 3. Under Mailboxes with push, you can now select which folders you want to sync. By default, only the Inbox is selected.
NOTE! Shared email folders cannot be synced. The limitation lies in the actual synchronization technology ActiveSync. If you want to access a shared email folder on your mobile, you can set it up as an IMAP account.
Click image for full version.