If you do not think you need to access all your emails from your mobile, we recommend that you make this setting. The fewer days, the more you can save on your battery consumption.
If you don't have Pro today, you can upgrade by contacting
our support.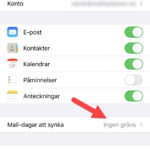 Go to Settings> Passwords and accounts> Select account.

You will now see the general settings of the account. Click Mail Days to sync to choose how long back you want to sync email to your mobile.