When sending or deleting messages in your mobile they are not saved on the mail server but on the phone. Follow the guide and connect your mobile with the mail server's folders so that everything will be stored there instead of on your phone.
If you do not pair the folders it means that messages you send from your iPhone will not appear on your other devices with your e-mail account or when you log in to your account in Work2Go in a browser.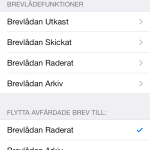 Settings >

E-mail

,

Contacts, Calendar

> select

your account

.
Click your e-mail address> Advanced.
Select Mailbox Drafts > select the Drafts folder.
Select Mailbox Sent > choose the Sent folder.
Select Mailbox Deleted > select the folder Trash.
Click image for full version.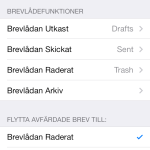 Now you will see the following if everything is set correctly.
Click image for full version.