Someone wants to share information on their account to you. Here you can learn how to accept such an invitation.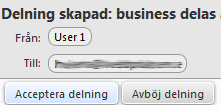 If you receive an email with an invitation to share another person's folder and accept it by clicking Accept Share a dialog box will open up.
Here you can rename the folder and select what color it should have. You can also choose to send a reply message that you have accepted. When you click Yes, a copy of the folder will be placed in the left column in your account and the e-mail message will automatically be moved to the Trash. You can change name and color again at a later stage if you right-click the folder and select Edit Properties.
Accepting a sharing in your accounts preferences
If you haven't received an invitation via email or misplaced it, you can still accept the sharing at the preferences tab > Sharing. Enter the person's e-mail address and click Search in the top box "Folders shared with me, but I have not accepted yet." Accept the share in the list of search results.