How

you

can use the

spell checker

on the account.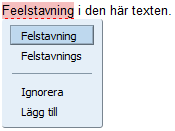 To check the spelling, click Check spelling symbol in e-mail message toolbar.
Misspelled words will be marked. If you click on the word, you get a drop-down menu of suggestions to choose from. You can also choose to Ignore the suggestions or Add the word you typed, even though the spell checker sees it as misspelled. The word will be highlighted again but this time in a different color.

NOTE! Before you close the spell checker, you can change back the corrected word to the original spelling. Click on the highlighted word again and select the original spelling from the top of the list.

When you are finished with the spell check, click Resume editing. To check the spelling again, you click Check again.

If you always want all your emails spell checked before sending them, you can activate "Mandatory spellcheck before sending a message" under Preferences > Mail > Composing: Composing Messages.