Learn

about the features

you can use

when creating new

e-mails.

Click New message.
Who would you like

to send

from?

If you have multiple

e-mail addresses

(

roles)

on

your account

, select

the role

you want to send

your message

from

.
Who do you want to send?

Please enter the e-mail address of the / those you want to write to in the To or Cc-field.
You can either type the address yourself or tap To to search through your address books. If the address is already saved in Work2Go you will get a list of hit results that match what you type and you won't need to enter the entire address yourself but just choose the right one from the list.
If you want to send a blind copy to someone and do not see the field, click Show Bcc right of the Cc field.
Write

the message

and attach a

file

Write
an appropriate subject
for
the message and
select
a priority if needed.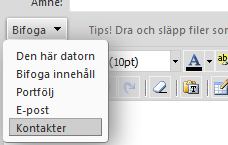 Click the arrow next to Attach to send one or more files. You can attach files saved in your computer or briefcase in Work2Go. If it's an image, you can choose whether you want the image to be visible in the message itself or whether it should only be attached as a file. You can also attach another e-mail message from your mailbox or a contact from your address book.
Type your message and correct the formatting if needed.
Check spelling

and other

settings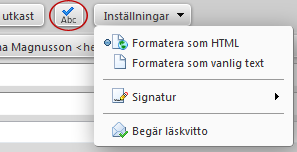 To check the spelling in the message, click the ABC button at the top.
To get a read receipt when the recipient opens your message, click the arrow at the top Options > Request read recipt.
To change the signature, click the arrow at the top Options > Signature.
Send now or later?

If you don't want to send the message immediately you can save it and send it at a later time, click Save draft.
To schedule when it should be sent instead, click the arrow at the Send > Send later and the message will automatically be sent along the time you specify.
Do you want to send your e-mail now, just click Send.
5

to consider before

you send



Read through

the message before

you send it.




If anything

needs fixing

, specify

what in the

subject line.




Write

short and concise

.


Include

people who need to

be informed

on the

Cc

line

.


Include

people who you need to

respond to

or act

on the

To line

.